New Week Same Humans #10
Build your new AI avatar. Young people throw shade at democracy. Plus more news and analysis from this week.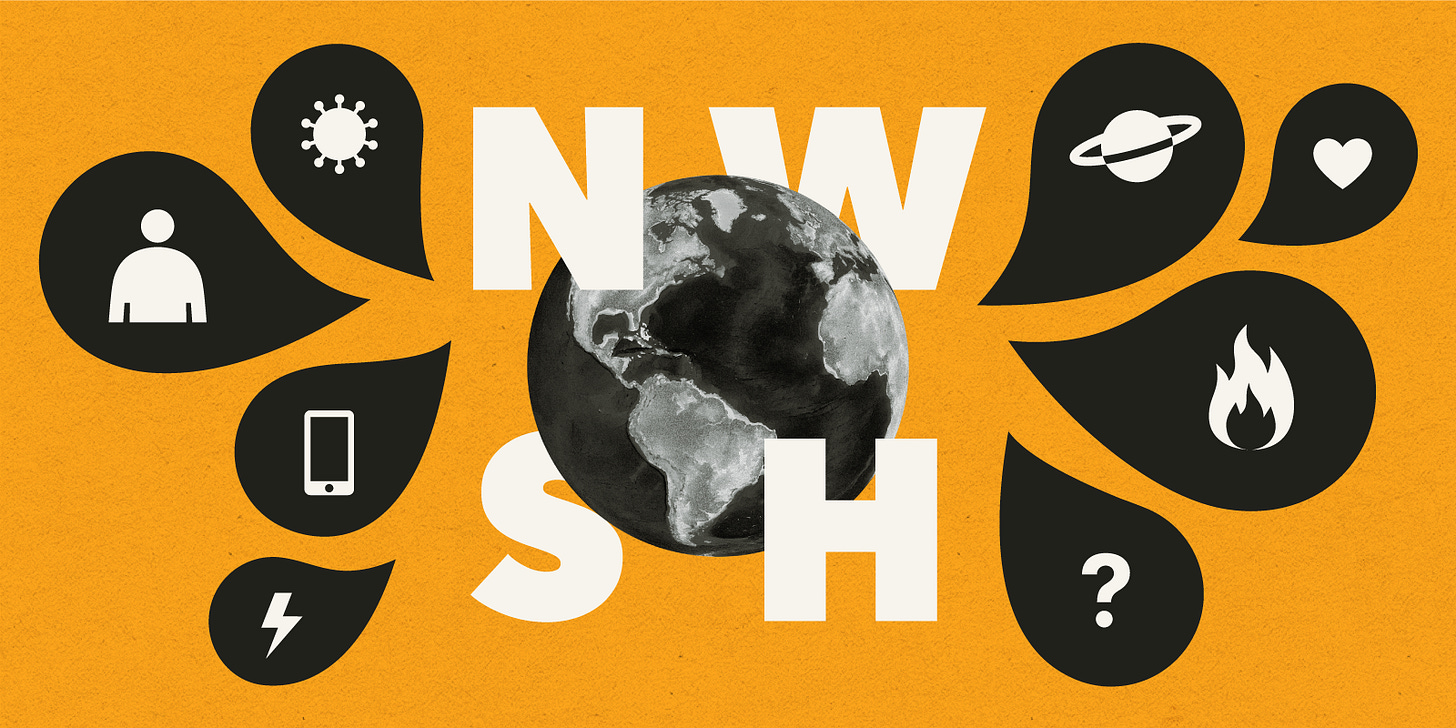 Welcome to the Wednesday update from New World Same Humans, a newsletter on trends, technology, and society by David Mattin.
If you're reading this and you haven't yet subscribed, then join 14,000+ curious souls on a journey to build a better shared future 🚀🔮
---
💡 This week's Sunday essay asked who is in the driving seat of history: humans, or our machines? Go here to read Welcome to the Technocene💡
---
This week, a major new report shows that young people are losing faith in democracy.
Also, startup Alethea AI wants to empower you to make a synthetic human. Plus, Spotify dives deep into your personality.
Plus: how AI is revolutionising our view of the Sahara Desert. And Thai banks brighten up 2020.
Let's do this!
---
🥑 Millennials throw shade at democracy
Cambridge University's new Centre for the Future of Democracy just published the deepest, most researched report ever on attitudes to democracy across generations.
TL;DR: young people are becoming steadily less satisfied with democracy. And today's millennials – some of whom are not that young any more – are less satisfied than previous generations were at the same age. To reach this conclusion the study drew on data from 4.8 million respondents across 160 countries between 1973 and 2020.
It wasn't always this way: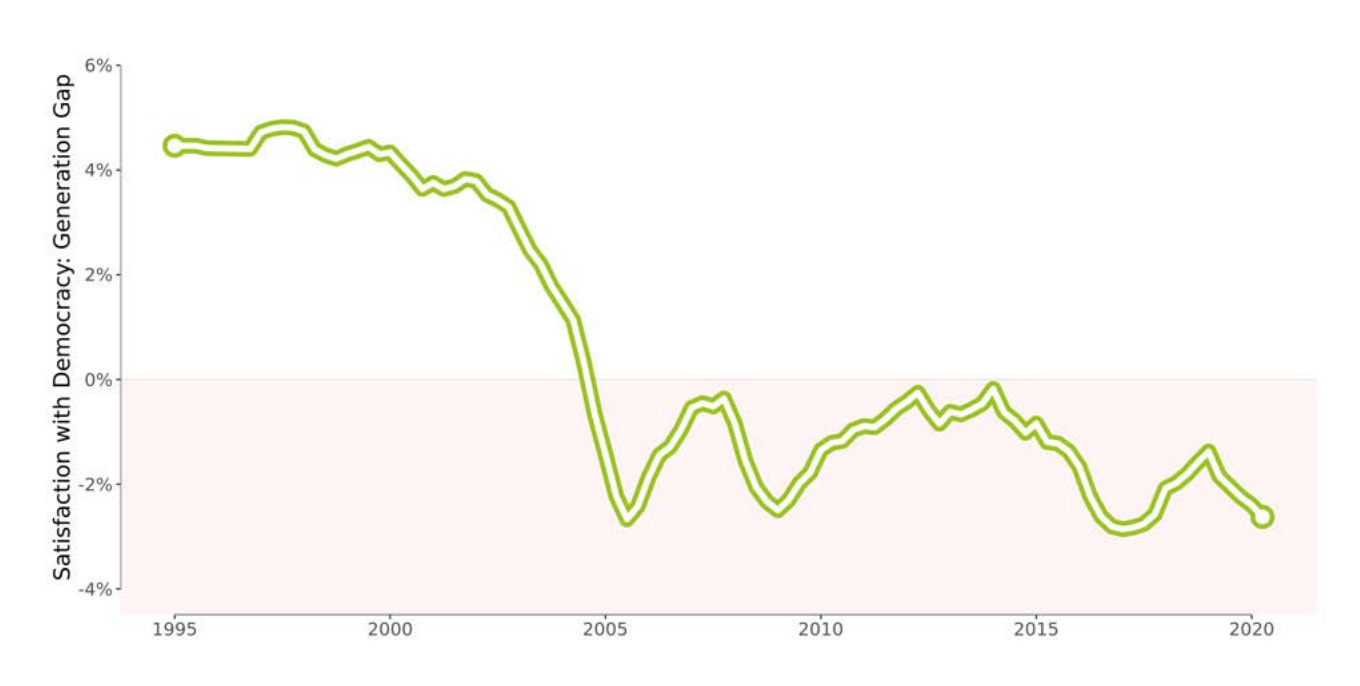 The graph above clarifies the shift across the last 25 years. Back in 1995 the 'satisfaction gap' among young people was positive, meaning they were more satisfied with democracy than their elders. In 2020, it's negative and trending down. The report suggests that in affluent democracies stagnant wages and rising house prices have left some young people feeling locked out of society.
---
🤖 Meet your Virtual Companion
Startup Alethea AI launched its AI Avatar Studio this week. They want to make it easy to create 'expressive and photorealistic' synthetic humans, and so enable 'new possibilities for content creation, storytelling, or customised interactive experiences'.
Here's one I made earlier. I'm not sure expressive and photorealistic has been nailed yet, but (i) you can unlock better avatars if you pay, and (ii) this is a signal of where the human/AI relationship is heading.
⚡ NWSH Take: As my weird Data-avatar says, the relationship between AI-fuelled entities is undergoing a shift. Right now, that relationship is primarily functional: Alexa, order me some washing powder. But via innovations such as this, it's starting to encompass far more than that: creativity, connection, and, yes, even friendship. // A powerful question for 2021: what does the emergence of AI-fuelled Virtual Companions mean for your industry? When millions are creating, and befriending, AI-fuelled entities, what will they expect from you? Earlier this year NZ startup Soul Machines raised $40 million for a studio that will enable brands to build AI-fuelled avatars, and Samsung is working on a range of artificial humans it calls NEON.
---
🙈 Spotify knows your guilty secrets
Spotify just patented a new system that will enable it to build more sophisticated models of its users.
Based on their activity inside the app, users will be rated for personality traits such as openness, agreeableness, extroversion, and neuroticism. The resulting model will be used to tailor their Spotify experience, including music suggestions. Extraverts, for example, can expect more party-themed playlist suggestions, while introverts will be served quieter, calmer ads.
Meanwhile, Facebook Dating launched in Europe this week. The launch was initially planned for Valentine's Day back in February, but was delayed due to EU data privacy regulations. The service uses profile data to find potential romantic matches.
⚡ NWSH Take: We all know Big Tech's MO: hoover up data, and deliver a personalised service. But the new Spotify patent is a reminder of how sophisticated these efforts are becoming: special adverts for introverts. // The patent and FB launch are also reminders that surveillance capitalism is only just getting started. What happens to our experiences online when real-time emotion and wellbeing data becomes part of the picture? // The end game here – as superstar futurist Yuval Harari has said – are algorithms that know us better than we know ourselves. Will millions one day trust an algorithm over their own limited judgement when it comes to finding the perfect life partner? // For now: whatever your industry, online or real-world, expectations for individualised service are becoming mainstream. How can you deliver?
---
🗓️ Also this week
⚖️ Dorsey, Zuckerberg and Pichai testified to the US Congress in an ill-tempered session. They were there to talk about Section 230, which exempts online platforms from responsibility for user generated content. But Republic lawmakers accused them of anti-Trump bias.
🧑‍💻 Germany will publish a draft law that makes working from home a legal right. The German labour ministry has been exploring WFH initiatives since early 2019.
🦸 Fortnite makers Epic Games say their crossover with the Marvel universe will last 'for many years to come'. Season 4 of the game, the Nexus War, has seen players able to pit themselves against Marvel characters.
⛽ South Korea's president, Moon Jae-in, committed the country to be carbon neutral by 2050. Japan, the EU and China have all made similar commitments recently.
😱 AI is being used to create fake DeepNude images of women on messaging service Telegram. A new report says over 104,852 women have had their 'stripped' images shared.
📢 Highly politicised liberals are five times more likely than others to share their opinions on social media. That's according to a new report on political tribes in the UK.
📱 There are more than 1 billion iPhone users now. That's a lot of people who Think Different.
🐱 The mascots of various Thai banks had a dance-off and it was amazing. Don't say capitalism has done nothing for you in 2020.
🚗 Former Uber drivers have accused the firm of 'robo-firing' them. They say the Uber algorithm terminated them from the app, and are asking courts in the Netherlands –where Uber's data is based – to take action.
🎵 The music industry is spoiling for an epic fight with game streaming platform Twitch. The industry sent a letter this week complaining that Twitch user constantly play copyrighted music on their streams.
🌳 An AI has used NASA satellite imagery to count more than 1.8 billion trees in the Sahara Desert. Until now, experts believed the Sahara had almost none.
🚴 Harley-Davidson is making an e-bike. The global e-bike market was estimated to be over $15 billion in 2019. Born to be mild?
🖊️ Iconic Apple designer Jony Ive is teaming up with Airbnb. Ive will overhaul the platform's website an app.
---
🌍 Humans of Earth
Key metrics to help you keep track of Project Human.
🙋‍♀️ Global population: 7,821,651,832 and counting
🌊 Earths currently needed: 1.7706261355
🗓️ 2020 progress bar: 83% complete
📖 On this day: On 28 October 1726 Jonathan Swift publishes Gulliver's Travels.
---
The next evolution
Thanks for reading this week!
Virtual Companions may be the next evolution when it comes to our relationship with technology. But right now, we at New World Same Humans are building a different kind of connection. In a few short months, our community has grown to over 14,000 smart people all over the world. And it's growing every day.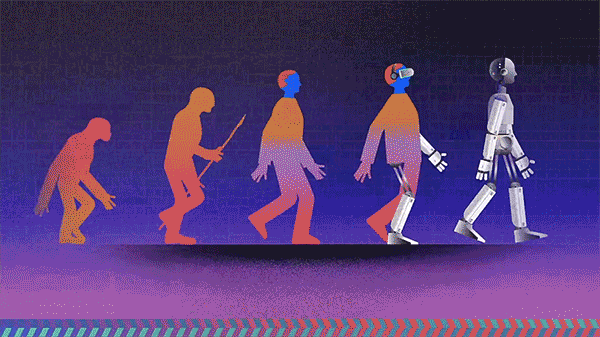 There's one thing you can do to help make the community stronger and more useful for all of us: invite more people inside!
So if you found today's instalment valuable, why not take a second to forward this email to one person – a friend, relative, or colleague – who'd also enjoy it? Or share New World Same Humans across one of your social networks, and let others know why you think it's worth their time. Just hit the share button!
I'll be back on Sunday. Until then, be well,
David.
P.S Huge thanks to Nikki Ritmeijer for the illustration at the top of this email. And to Monique van Dusseldorp for additional research and analysis.
---
David Mattin sits on the World Economic Forum's Global Future Council on Consumption.